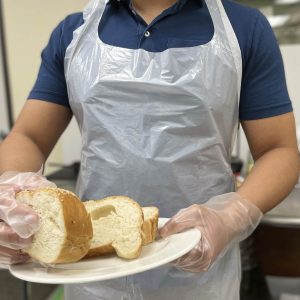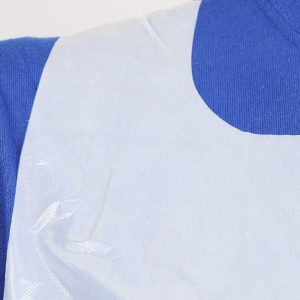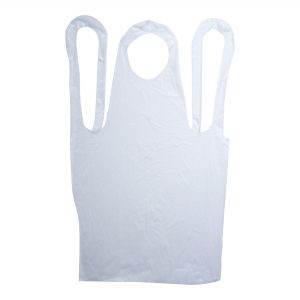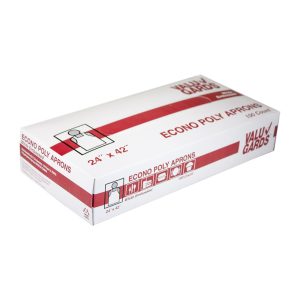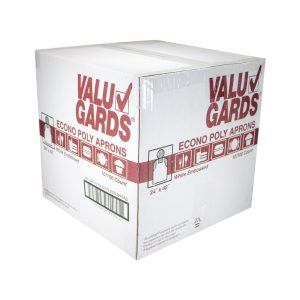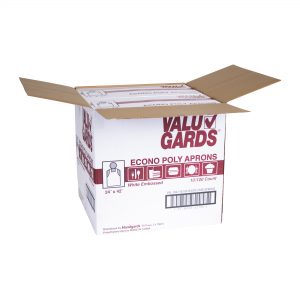 ValuGards® Low Density Light Duty Embossed Poly Aprons – White 24×42

Features
Valugards® Low Density Light Duty Embossed Poly Aprons protect uniforms and clothing and combined with proper hygiene practices and frequent changes, can help reduce the possibility of cross contamination and the potential transfer of harmful bacteria or viruses. Microbes can double in number quickly and harmful viruses can also spread quickly.
Extra-long ties make tying quick and easy, and a large neck opening provide a cooler more comfortable wear.
For Light Duty tasks
Color: White
Embossed Material
Available in 24″ x 42″ and 28″ x 46″ sizes
Available in a 1000 case ct.
Description
CLICK BELOW FOR MORE INFORMATION ON APRONS
| Reorder No. | GTIN | Dispenser UPC | Model | Size | Case Qty | Color | Type | TI/HI |
| --- | --- | --- | --- | --- | --- | --- | --- | --- |
| 304663100 | 10738101631003 | 738101631006 | VAL 2442 | 24X42 | 1000 | White | Embossed | 9/4 |
Additional information
| | |
| --- | --- |
| Brand | Valugards® |
| Model | VAL2442, VAL2846 |
| Color | White |
| Product Type | Embossed Poly Aprons, Light Duty, Low Density Poly Aprons |
| Material | Low Density Polyethylene |
All Poly Aprons
| Reorder No. | GTIN | Model | Size (in) | Case Qty | Color | Material Type | Task Type | Brand | TI/HI |
| --- | --- | --- | --- | --- | --- | --- | --- | --- | --- |
| 303764021 | 10738101640210 | ALEW | 28 x 46 | 100 | White | Embossed | Light Duty | NeatGards | 18/8 |
| 303764026 | 10738101640265 | ALSW | 28 x 46 | 100 | White | Smooth | Light Duty | NeatGards | 24/8 |
| 304663100 | 10738101631003 | VAL2442 | 24 x 42 | 1000 | White | Embossed | Light Duty | Valugards | 9/4 |
| 304663104 | 10738101631041 | VAL2846 | 28 x 46 | 1000 | White | Embossed | Light Duty | Valugards | 9/4 |
| 303764025 | 10738101640258 | AMSW | 28 x 46 | 100 | White | Smooth | Medium Duty | NeatGards | 24/8 |
| 303764020 | 10738101640203 | AMEW | 28 x 46 | 100 | White | Embossed | Medium Duty | NeatGards | 18/8 |
| 303764019 | 10738101640197 | AMEC | 28 x 46 | 100 | Clear | Embossed | Medium Duty | NeatGards | 18/8 |
| 304663122 | 10738101631225 | AP 2442 | 24 x 42 | 1000 | White | Embossed | Medium Duty | NeatGards | 9/3 |
| 303764022 | 10738101640227 | AHEW | 28 x 46 | 100 | White | Embossed | Heavy Duty | NeatGards | 18/8 |
| 303764023 | 10738101640234 | AHSC | 28 x 46 | 100 | Clear | Smooth | Heavy Duty | NeatGards | 24/8 |
| 303764027 | 10738101640272 | AHSW | 28 x 46 | 100 | White | Smooth | Heavy Duty | NeatGards | 24/8 |
| 303764832 | 10738101648322 | AHSY | 28 x 46 | 50 | Yellow | Smooth | Heavy Duty | NeatGards | 30/8 |