Handgards® Polyethylene Disposable Gloves are an excellent option for foodservice applications requiring frequent glove changes or anywhere fast paced light duty tasks are utilized. Our Poly Glove Line includes Elbow Length, Poly Mitts, and Quickserve® Gloves that include a convenient hang-card that enables easy single-handed donning. Additionally, our Poly product line includes a clear and blue color option to ensure enhanced visibility. They can be used for food sampling, pre-portioning, salad prep, or any other quick service job. They offer great performance and resiliency all around. Handgards® is here to offer you the right food-grade products you'll need to increase your kitchen and business efficiencies.
Why use disposable gloves?
Handgards® Polyethylene Disposable Gloves are produced from materials that fully comply with FDA rule 177.1520 for food contact and FDA rule 110.10 GMP for food handling. According to the FDA, unsafe foods and surfaces containing harmful bacteria, parasites, viruses, and chemical substances were responsible for more than 200 diseases affecting 600 million people worldwide, causing many to fall ill after eating contaminated food. The proper wearing of disposable gloves when preparing, cooking, and serving ready-to-eat foods is critically important to reduce the number of people affected by food contamination.
Please contact your Handgards® Sales Representative for ordering information.
Features & Benefits
Designed with a looser fit for quick on and off

Reliable barrier for lighter duty tasks

Domestic Poly gloves available

Superior comfort helps to avoid hand fatigue

Our most economical glove choice
Applications
Food sampling and handling pastries
Segments
Food and Beverage Processing
Poly Disposable Glove Overview
To learn more about our Poly Gloves please view the video on the right. 
Most economical choice
Ideal for light duty tasks
Reliable performance for short-term tasks
Different cuff lengths to offer greater wrist and forearm protection
Available in clear and blue color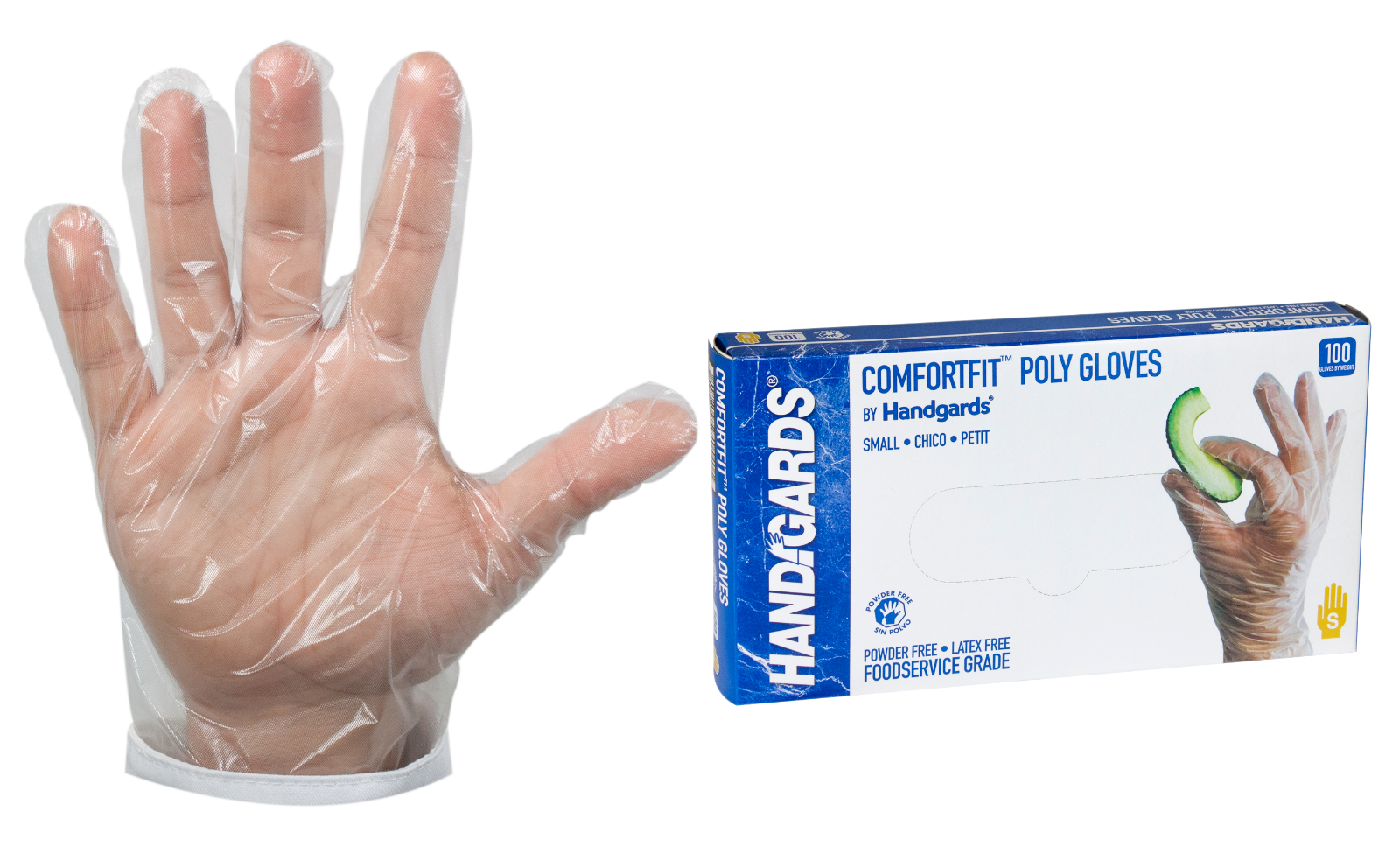 Packaged in an easy-to-dispense perforated box that fits efficiently on any counter top or shelf for easy access. 
Made of high quality polyethylene material that is durable and strong.
Designed for fast paced applications where frequent glove changes are required.           
Poly gloves available in powder-free, smooth, stretch, and hot or cold cast poly options .   
The lightweight corrugated dispenser has vibrant design with easy to read glove information and glove size symbols.
Disposable Gloves Online Tools & Resources
PS-74 Glove Catalog
Our updated glove line catalog is digitally available here for download and quick reference. For further information, please contact your Handgards® Representative.


Which Glove Is Right For Me?
Handgards® Glove Table is a tool to help you select the right glove based on your business needs and our product's functionality, durability, and fit.



Glove Guide Brochure
Our Glove Brochure is a detailed guide with information on how using gloves is crucial for your business. It details what type of glove to use where, and the right time to change gloves, plus other helpful tips.
Glove Ladder Sheet
The Glove Ladder is a tool to help understand and differentiate between Handgards® Good, Better, and Best Gloves Categories. It was made to help customers invest in the right glove for the right task(s).
Additional Types of Gloves Available - Disposable & Reusable