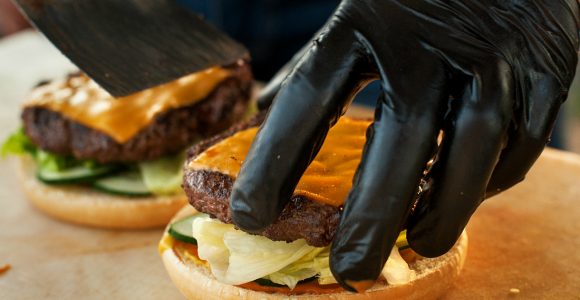 Black gloves have become an industry favorite and a must in many restaurant environments, especially barbeque restaurants. That's why Handgards is proud to introduce one of the newest additions to the glove catalog, Handgards SnugFit™ Black Vinyl Gloves. These gloves are perfect for operators looking for a cost-efficient, form-fitting quality glove in a sleek black color.
As the name suggest, SnugFit™ gloves offer a tight fit that allows users to move with more dexterity and precision. Besides looking highly professional and modern, the black color of these gloves helps to discreetly hide grease and stains. It can also help if a piece of glove should accidentally fall into food, since black is much easier to detect over other glove colors, like clear.
Handgards® Black Vinyl Gloves are perfect for general use across foodservice environments! They offer the same great capabilites of vinyl gloves in a trendy new color.
Features & Benefits
Economical latex and nitrile alternative
Form-fitting, for improved dexterity
Ideal for general foodservice or cleaning needs
Black color for professional appearance
Powder-free