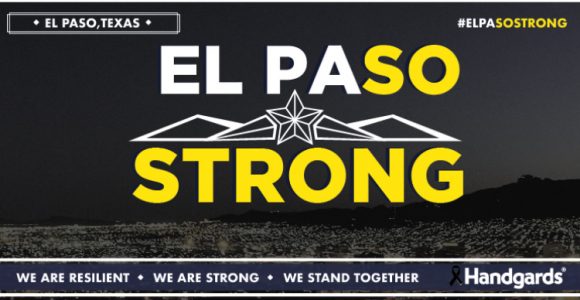 HANDGARDS INC. –
El Paso, Texas -August 5, 2019
Saturday, August 3rd, 2019 was one of the darkest days in our city's history, but the amount of compassion and love we have seen is extraordinary. While no words can provide solace for those who lost loved ones to this senseless violence, Handgards Inc. and its employees send condolences to the bereaved families, best wishes for recovery to the injured, and solidarity with the American people. As El Paso recovers from the massacre that unfolded Saturday, Handgards Inc. is calling on its employees, friends, and family — both nearby and from afar — to help.
Handgards Inc. ask those who want to assist their community to contact Vitalant for blood donations. Appointments can be made at bloodhero.com or call 1-877-258-4825.  The Paso del Norte Community Foundation has created the El Paso Victims Relief Fund, in conjunction with the City of El Paso, to accept monetary donations to support victims and their families who have been affected by this horrific event. There is no fee to donate, and donations can be made here: https://pdnfoundation.org.
This will not define us, we are resilient, we stand together, we are #ElPasoStrong.